Sometimes it takes a while to choose between an axe wood splitter and a wood splitting maul because both can be used basically on splitting wood or for more serious work, splitting logs. Well, since we have discussed in one of our blogs about where to find the best axe for splitting wood and made some reviews of the most popular, we want you to know that there are actually great differences between a splitting axe and a splitting maul.
Splitting Axe vs Splitting
A splitting axe is primarily designed to split wood or log by targeting the lines parallel to the grain of the wood. This is to exploit the weakness of the wood as the metal goes deep into the wood fiber which eventually breaks the wood. A splitting axe can weigh between 3 and 6 pounds, has a tapered head and must be sharp to bury its head deep into the wood fiber.
Splitting axes have variable handle lengths depending on the choice of the user and their handles can be of composite materials or hickory wood which is the best type of axe handle wood for all types of axes.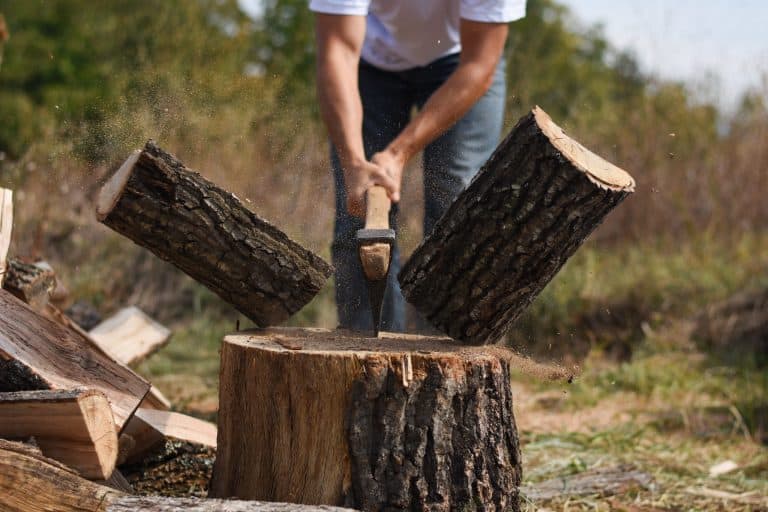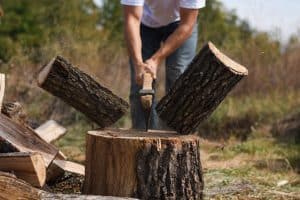 A wood splitting maul, as we look at it, is like a huge half-sledgehammer and a half-splitting axe in one. The top of the head is usually rounded like a sledgehammer but its other half is like an axe designed for splitting wood as it tapers into a wedge. The other thing that also separates the maul from the features of an axe is its blade.
A wood splitting maul's blade is not designed to be sharp like that of a felling axe or wood splitting axe but slightly blunt just for splitting wood by means of its sheer weight and the energy you put into it. Why the maul axes are designed to be a bit blunt is because they are not intended to bury deep into the wood and get stuck. They just need to create a small crack on the wood by brute force and start splitting from there.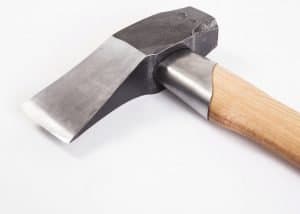 In other countries, people call the wood splitting maul the "sledge axe" because of its design and with generally heavy features. Typically, mauls can weigh between 6 and 8 pounds (2.7 and 3.6 kg) just for the axe head only.
Mauls typically have long handles up to 36-inches long (3 feet). And though they are made not as sharp as the splitting axes, what makes them better at splitting logs is through the absolute weight of their heads and the momentum you enforce on its handle. The heavier the head and the stronger your arms, the more effective mauls can split wood and logs. They are also for dual-purpose too. If you are building a fence on your property and staking metal rods deep into the ground, you can also use your wood splitting maul for this purpose.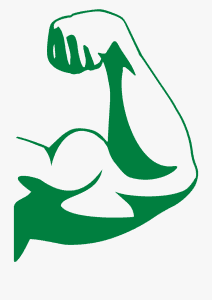 We can compare wood splitting mauls to the mechanized log splitter. But not as fast as the kinetic log splitter but the wood splitting maul is made for this kind of work, to split bigger and tougher logs manually.
Traditionally, wood splitting mauls have narrow wedge-shaped heads like the American-style mauls. But there are now modern versions like the Swedish-style mauls with narrower blade design, the Basque splitting axe with a wider tapered head, the Scandinavian thin-head mauls, and the classic but heaviest conical wedge design mauls that are for larger men to do hardcore wood splitting work.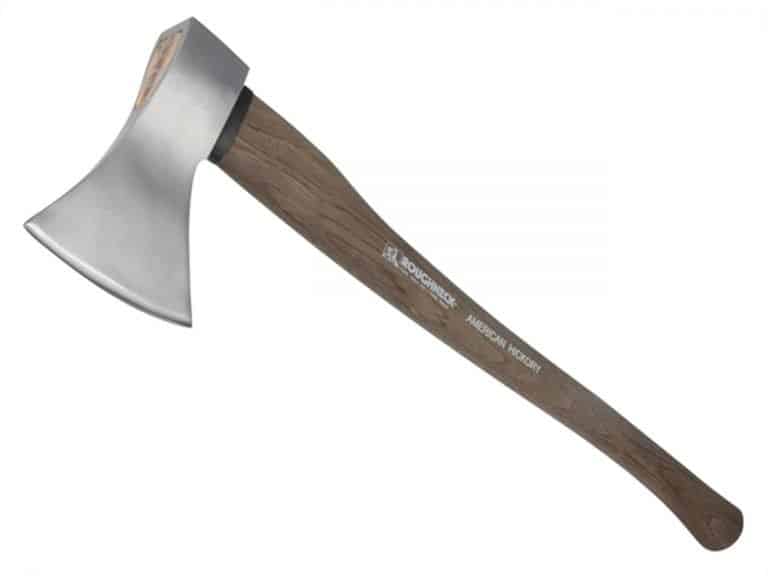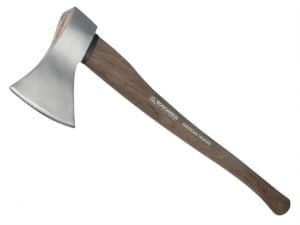 The blade shape and weight of the splitting maul are what make it better for its job. So whenever you want to buy one, check its head design first, know its weight, and read the reviews to discover the real deal behind the magnificent features.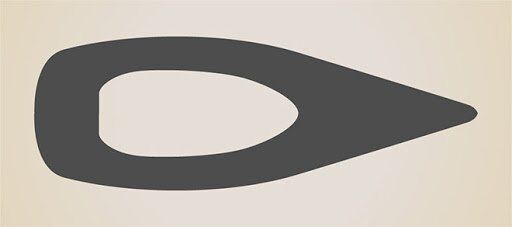 Also, consider what type of material the handle is made of. Is it composite or wood handles? Composite handles are tougher and last longer but heavier. Wood handles like the American hickory wood are resilient, can absorb shocks better, lighter and also sturdy.
Now that you have some ideas on what to consider when choosing the best wood splitting maul, you know now what you need to check on before buying your own maul.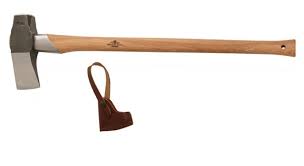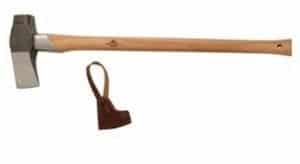 To help you with your search, here are some excellent wood splitting mauls that we've found to be very popular.And they have the best reviews that is why we don't hesitate to present them to you.
Fiskars tools are known for their durability and reliability. They are primarily Finnish patented products and this powerful maul is purely made in Finland.

It has two faces for dual purpose use: splitting face for splitting up logs and driving face for use as a sledgehammer.

Its blade is geometrically shaped for a better penetrating effect that can split a medium-sized log apart with a strong single blow.

With a patented IsoCore Shock Control System on its neck that will absorb the shocks every time you hit a hard surface and will reduce 30 percent of the vibrations.

The rubberized sleeve can absorb the shock and eliminate it before it reaches the handle grip point.

The soft- grip handle is specially shaped to fit the natural shape of the hand.

Hand-forged, heat-treated and the whole axe head is coated with a rust-resistant coating.

With full lifetime warranty.
These features are not very common among other wood splitting mauls. Especially the handle that can dampen shockwaves as it is fully covered with insulating materials, your hands won't feel the fatigue due to the constant striking.
Also, if you notice, its head is riveted right into the handle so there's no chance that the head will slide off or break on the neck even when you do full force striking with the axe. The handle also has a sculpted soft-grip profile that will fit any hand size so even if your hands are larger these will sit comfortably right on the grip.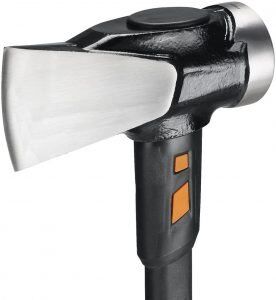 Actually, according to Fiskars, the design of this wood splitting maul has even exceeded the US and ISO standards in terms of meeting the standard qualities that an axe or a striking tool should have. With this quality, you know that this tool is really made for hard work and for rugged working environments.
Specifically, this Fiskars maul head weighs 8 pounds but weighs 10.2 pounds overall. And with its robust construction and comfortable grip handle as well as its 36-inch handle, you will be confident that every time you lift and swing this maul, even the 24-inch diameter log stand no chance of keeping itself whole for a whole minute only with a few strikes.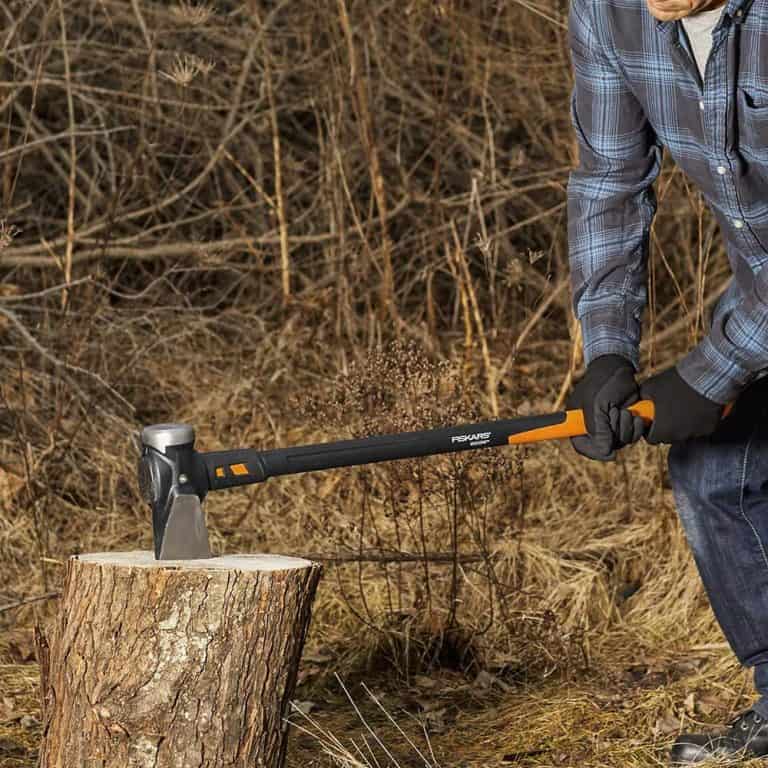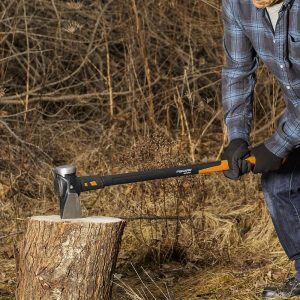 The company also tagged a full lifetime warranty for this wood splitting maul and put its trust in the workmanship and materials used on this tool. So as long as you have this wood splitting maul, you are guaranteed that the company will provide you the repair service you need for it. You can also easily contact the customer service by phone, email or chat.
Verified buyers say this tool is one of their most favorites because it never fails to amaze them. It can split even the heaviest and thickest of logs and accordingly have one of the heaviest axe heads among mauls with composite long handles.
Gransfors Bruk axes and mauls have been around for more than a hundred years now and each tool the company produces is handcrafted and hand-forged so that each can attain the heaviness, compactness, and durability that each product must possess.
The company adheres to its policy that when it regards to its tools, every piece of it should have the smith's initials imprinted right on the axe head to guarantee that the product underwent the right hardening process and it is made with the highest quality materials.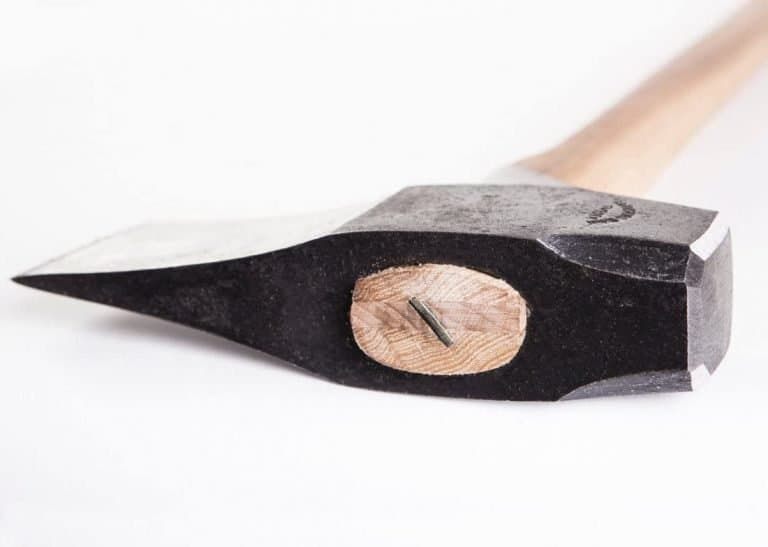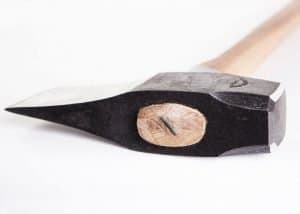 All Gransfors Bruks axes and mauls are made in Sweden specifically in Gransfors in northern Halsingland. If you happen to visit the foundry of Gransfors, you will hear the pounding of metals even from afar and that's the sound of making axes that meet world-class standards.
This Gransfors Bruk wood splitting maul has a lot of good things to offer:
Axe head that weighs 5.5 lbs.

Handle length is 80 cm. or 31.5-inches.

Total weight is 7 lbs (3.2 kgs).

Comes with a vegetable-tanned leather sheath.

Weight is best for splitting large blocks of wood into smaller wood for firewood.

Metal neck collar to absorb shocks and to fortify the handle.
The most distinctive characteristics of Gransfors splitting mauls are their narrow but thick heavy heads with a tapering thin blade on the wedge. With these features, they obviously are made to split thick and knotty chunks of logs or any kinds of wood as hard as oaks. The blades are strongly forged and thinner at the bit but grounded to concave.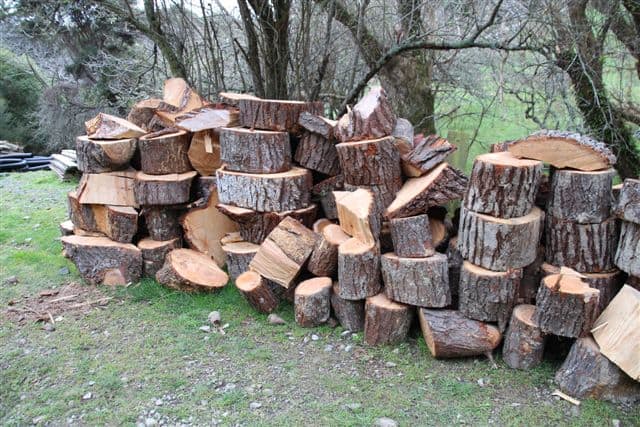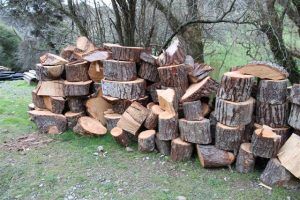 This splitting maul can go very deep right into the wood only with a single blow. And once its heavy head pounded on the log 2 to 4 times, you can instantly see the split coming in and become larger until the log breaks apart. An excellent tool for making firewood, it has the right weight and sturdiness for the job while the design of its blade is effective also as a cleaver.
The weight and the beveled blade of this axe is what makes this axe a formidable tool against knotty wood. You can easily pull the blade out with just one twist of its handle.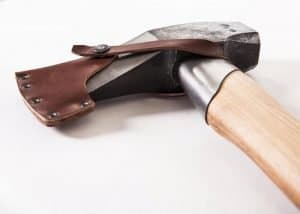 The 31.5-inch handle also is made of Hickory wood and you can see that at the neck of the handle where the axe head is, there's the steel collar that was handcrafted to protect the wooden handle from breaking down as you aggressively pound on the log. As such, this metal collar also adds extra load for the head making the head heavier and more powerful.
According to some reviews, this Gransfors Brucks maul is one of the most recognized splitting mauls that axe and maul enthusiasts are always looking for. People like its style, its heaviness, and rugged design and most of all its performance.
And sure enough, if it's made by Gransfors it comes with a handsome leather sheath that is hand-made and perfectly fit for the axe blade. And with a straight handle that gives you the extra force to earn that momentum, this axe is really a force to reckon with.
Here is the Truper 8-pound maul with a 36-inch handle that we are sure will give you years of service from your purchase. It's under the $50 price range and as nobody complains about the price, lots of people are praising it .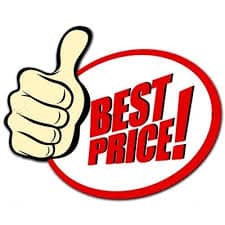 It is loaded with an 8-pound solid steel head which is drop-forged.
With a rounded bevel-edged striking face.

Handle is a straight double injected fiberglass which is lighter than wood but super durable.

Grip handle is rubberized for more enhanced handling and control.
We've found so many reviews telling nice stories about this Truper 8-pounder maul and so we checked it at Amazon and we were also amazed by its features. For its price, you won't believe that this is some kind of a heavy maul that can break even the toughest of oak logs.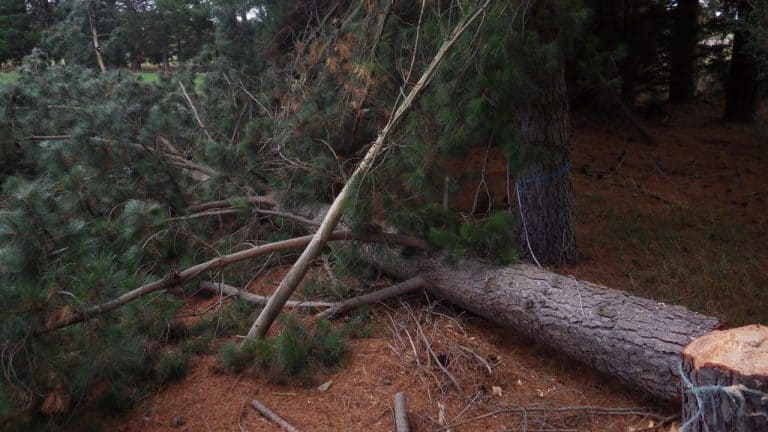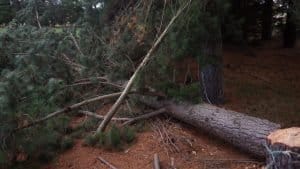 The handle is made of fiberglass and double injected which means this is not a hollow piece of a tube but a solid piece of a fiberglass handle covered with an overstrike protection layer. But what is an overstrike protection feature?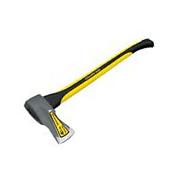 The overstrike protection is the quality of the axe handle that can reduce impact and prevent damages and breakage on the handle. This feature is usually found on axes and mauls that have composite handles and covered with rubberized materials. In this manner, your maul's handle will not only be absorbing shocks but also protecting your hands from stress and fatigue.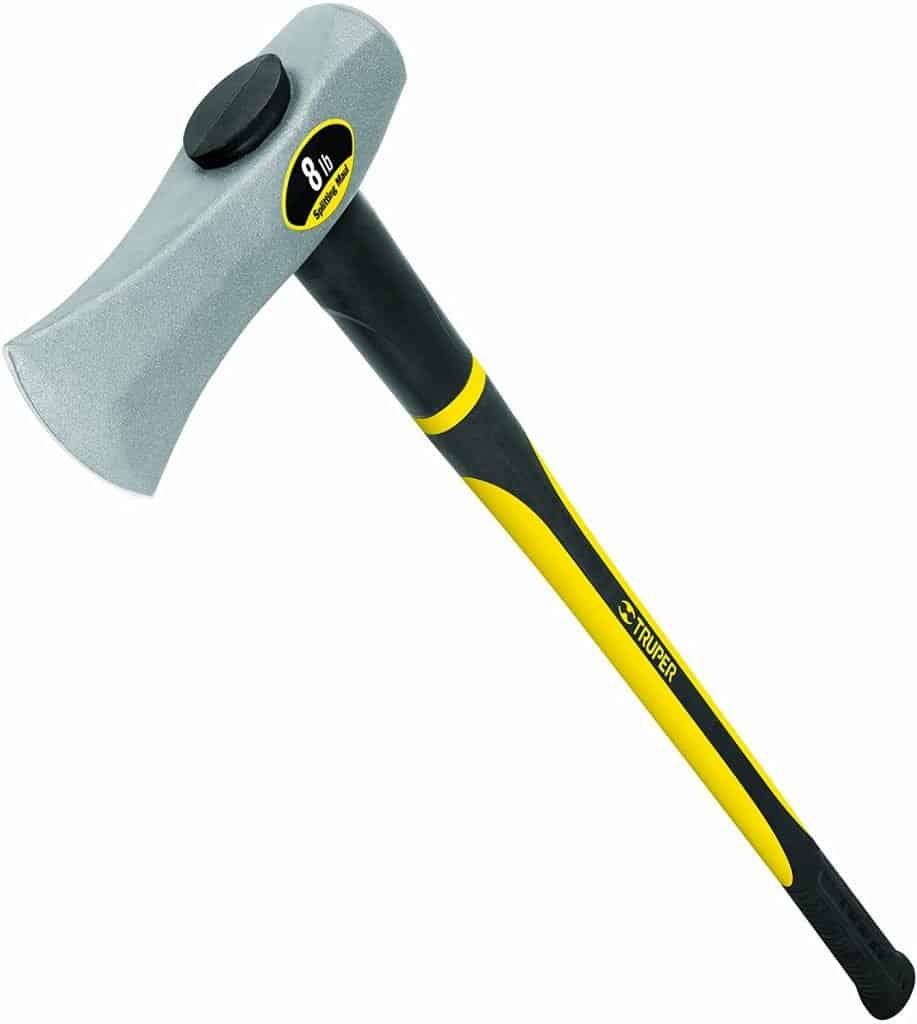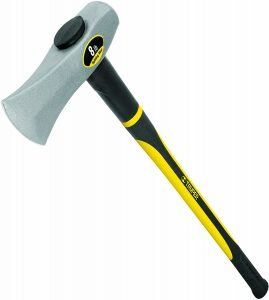 If you are thinking about investing in a reliable splitting maul but cannot afford those branded imported ones or the American-classic mauls, this one is best for the money. And people love it considering that this is not even on the exclusive lists among the most expensive but branded mauls. On top of that, Truper is also offering a limited warranty for this maul so what can you ask for more?
Most guys who have this maul won't believe at first that this very affordable maul would actually be heavy and solidly made. And when it does its job, they say that it can be reliable in producing cords of firewood on a given day. This tool is now considered to be among the most reliable wood splitters that are on the cheaper side.


The most appreciated thing about this tool is the head's sheer weight which some say could be like of a 10-pounder rather than its real 8-pound weight. Thus, it serves as a great wood splitter and never fails to impress users.
The original Helko Werks axes and mauls are made in Wuppertal, Germany as this one is. We were scouring the web for the most reliable mauls and we've found this. By the look of its head, we know we have tripped on a maul that is made for a serious wood splitting job.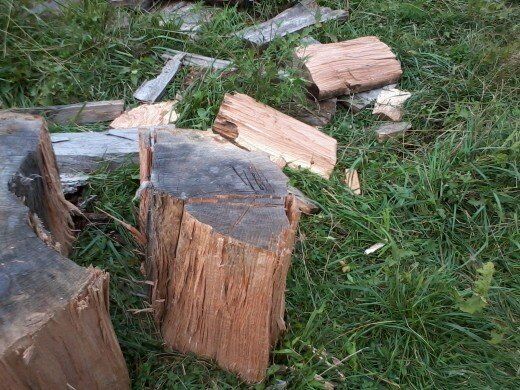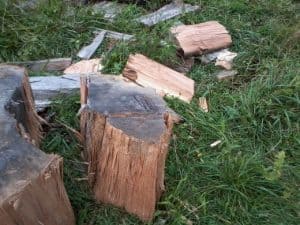 Original maul axe head that is hand-forged in Germany.

Head weight is 6.7 lbs, handle length is 36-inches, and the total weight is 8.5 lbs.

Bit length is 3 7/8-inch.

Head is made of German C50 high-grade carbon steel and rated HRC 53-56 (solid hardness).

Handle is designed and made in Switzerland but wood comes from Grade A American hickory.

Comes with a free tanned American-made leather sheath

Free 1-ounce bottle Axe Guard protective oil.
This Helko Werk 2000 log splitter is basically an enormous axe so it is actually a heavy-duty made wood-splitting maul that is weighty and can surely split even the largest of the log. Its blade design is more like a diamond shape thus when you deliver a striking force, the weight and style of the head can shake the log and create a fissure to which it quickly develops into cracks.


We all know that when it comes to tools and machines, the German-made are number one. The head of this maul is a solid German C50 High Carbon Steel that is hand-forged by drop hammer and the HRC Rockwell Hardness is rated at 53-56 which is the above standard for metal hardness.
For the 36-inches handle, the wood is a Grade A American hickory which is crafted in Switzerland. It was also smooth sanded using 150 grit sander then boiled in linseed oil for a handsome finish. The design of the handle is also curved in the middle and experts say such design is of European origin which can add strength to the head as you put your momentum on the handle when striking a log.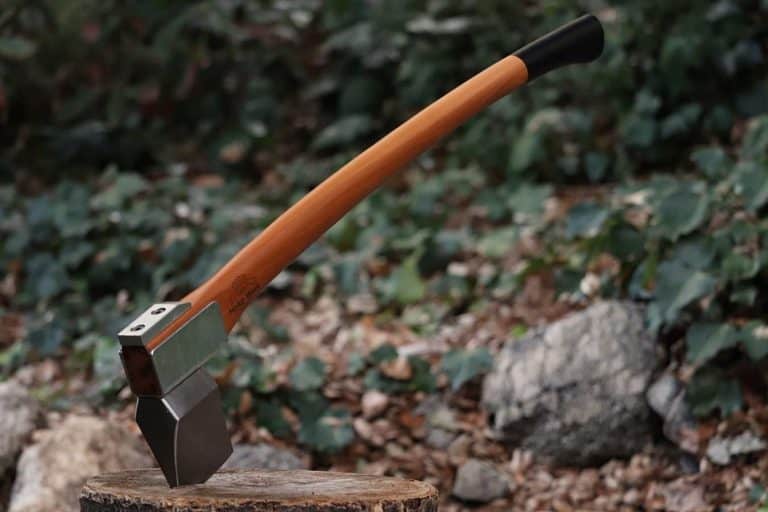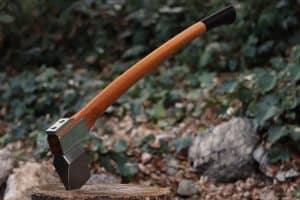 Over the top of the axe head is a notched steel ring wedge and this was installed so that the head will remain steady and fixed.
The sheath that comes with the maul is a free gift and nicely made because this is essentially vegetable tanned full-grain cow leather that is made in the USA. It also has nickel-plated hardware that adds up to the durability of the sheath. With this sheath, you can now be able to carry your maul on a protective casing with pride and convenience.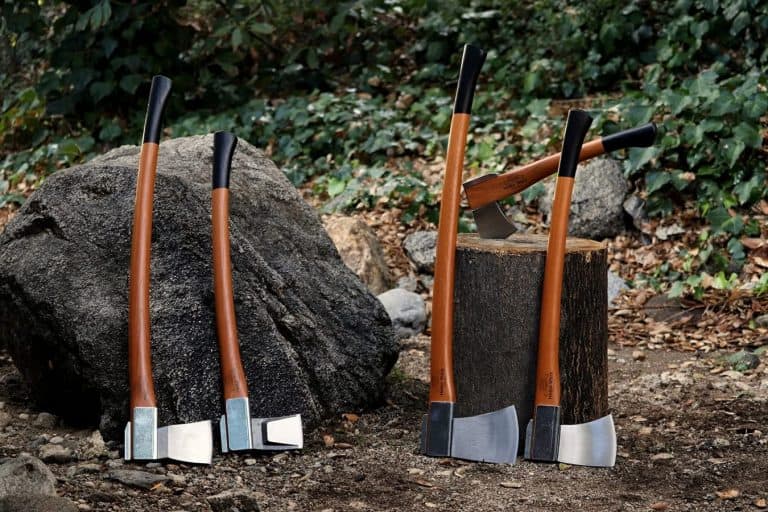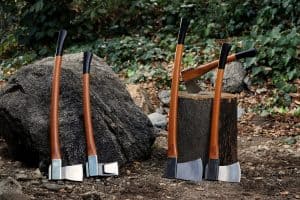 This maul is designed for hard cleaving work and though it is advertised as a splitting axe, its physical attributes like the large heavy head, long handle and cleaving design, these attributes are the actual characteristics of a super splitting maul.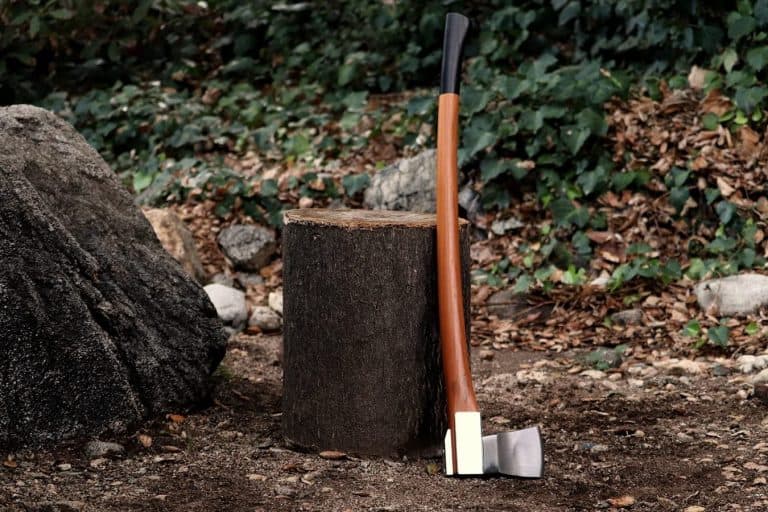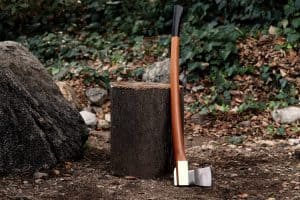 Helko has been around since the 1800s and now has a reputation for being one of the most productive manufacturers for the highest quality woodworking tools and gears. The company today has its warehouse in California where stocks of mauls and axes are kept and being distributed in North America.
Most of the reviews said this maul could last forever because of its physical qualities and it's solidly made. It could serve as a good investment and because it carries its brand with pride, it is expected to be useful for many, many years and the owner can even hand this over to his future generations.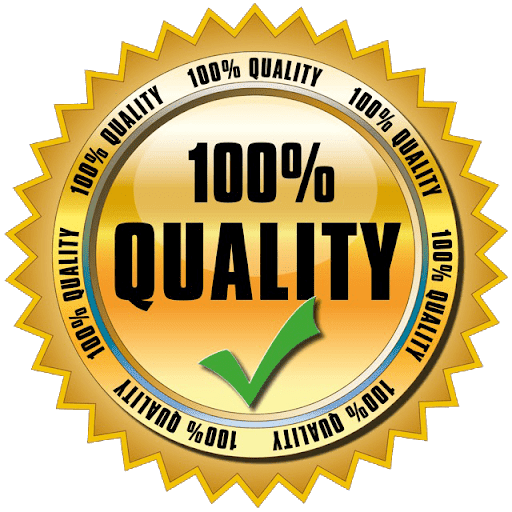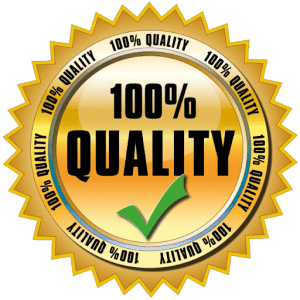 Accordingly, the maul can split huge pieces of wood and no problem with logs even for greenwoods. It also doesn't get stuck in the wood and the handle is amazingly curved and really feels strong and solid on the hands. This maul can split logs beautifully and that's because it's heavy, well-made and built heavily for some serious wood chopping jobs.
This is what we really mean by what people call the "sledge axe" because, from the moment you see this wood splitter, you could say this was made not only for wood but for driving in metal stakes right into the ground. Well, the thing is, the manufacturer created this design to make the maul more powerful that's why its top head is shaped like that of a sledgehammer.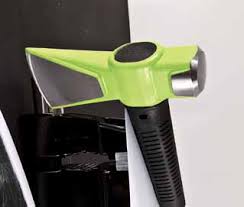 Utilizes Unbreakable Handle Technology. The handle is a steel core that eliminates breakage during overstrikes.
Safety plates were fixed on the axe head to prevent the head from slipping out.

Steel handle is covered with a No-Slip Grip that is made from vulcanized rubber to avoid hand slips during use. This also absorbs shocks preventing hand fatigue.

Anti-Vibe Neck tapered design to reduce vibrations during striking.
Wilton Tools, which is the maker of this maul, was already creating bullet vises during the 1940s in Chicago. As the company expanded and became recognized as one of the best manufacturers of heavy-duty industrial vises, it added other tools and established a line of the toughest and most rugged striking tools which the company calls the B.A.S.H. (Bad-Ass Sled Hammer) line of tools.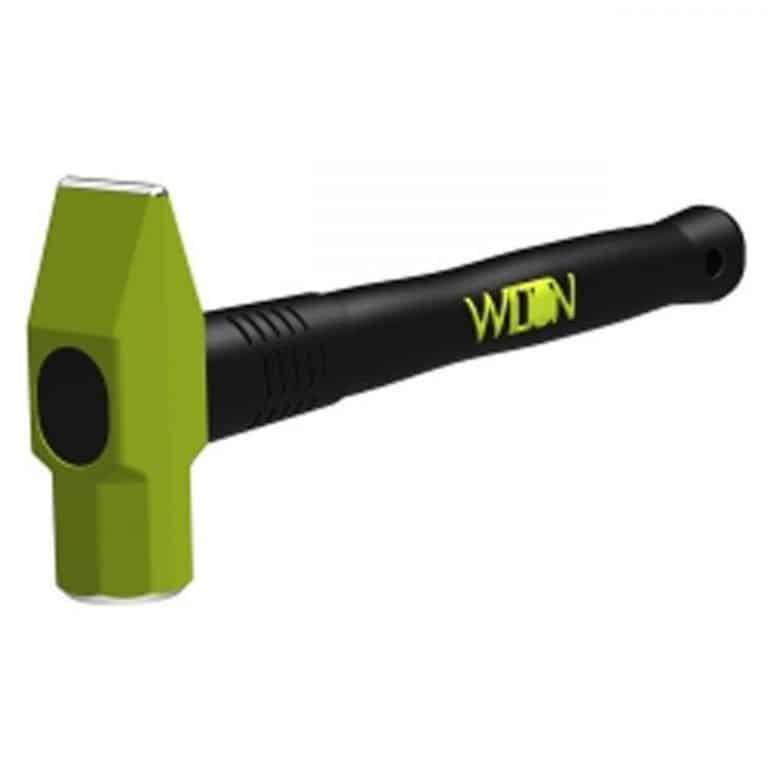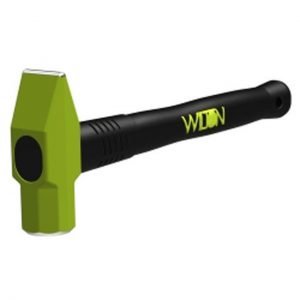 This 8-pounder splitting maul is part of the B.A.S.H. family and this is why almost every wood splitting maul the company creates, it tries to include the sledgehammer features into it so that every tool could be highly functional, heavy, reliable, solidly- built and can last lifetimes.
This maul is made of drop-forged steel and was intensely forged to reach the 46 HRC hardness rating. It is featured in neon green to make it more visible in any type of environment. A safety plate was also installed to lock the axe head in place and permanently fixed it so there's no possibility of any head slippage.


The B.A.S.H. Unbreakable handle technology has also been enforced on this maul. Basically, the handle is made of six rods melted together to form the handle core then it is wrapped with a vulcanized rubber over the mold. So essentially, the handle is solidly tough and covered with rubber to absorb shocks and prevent overstrike damage while it provides a no-slip texture to the user.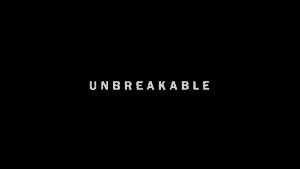 Wilson Tool is actually proud of this maul's handle and according to them, they offer a thousand-dollar break-free warranty for two full years of normal use. So whenever you break the handle unintentionally while splitting wood, you even get the 1K reward warranty and this is how the company believes in its own products.
For utmost safety, there is also a lanyard hole right at the end of the handle which you can attach a lanyard and secure the axe on your wrist or if you want to hang this maul when storing it.
Generally, the reviews go toward the solid build of this revolutionary designed maul. The head is heavy like a sledgehammer while the rubber-mold handle provides for an easy grip and comfortable handling without the vibrations. With these features, users feel that this maul is made not only for some serious wood splitting job but also for durability, safety, and comfort of use.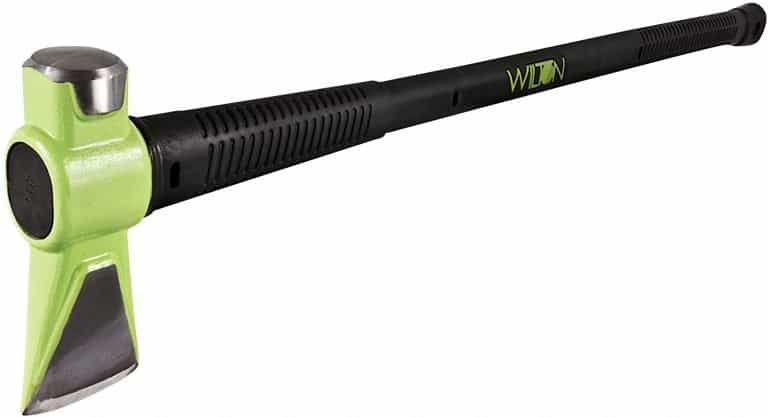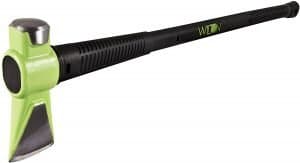 Amazon reviewers who are verified purchasers also appreciate the general make-up of this maul especially the kind of metal used from the handle to the axe head. The workmanship especially the straight 36-inch handle is accordingly solid to the core while the security features that are included in this tool are also greatly appreciated.
For the head's design as well as the heaviness of it, this makes this wood splitting maul more effective even in splitting huge and knotty rounds of logs. This maul weighs 12 pounds overall so expect that it is heavy and brawny. It is actually an extra large tool and absolutely very powerful and you'll know this once you hold and swing this up in the air.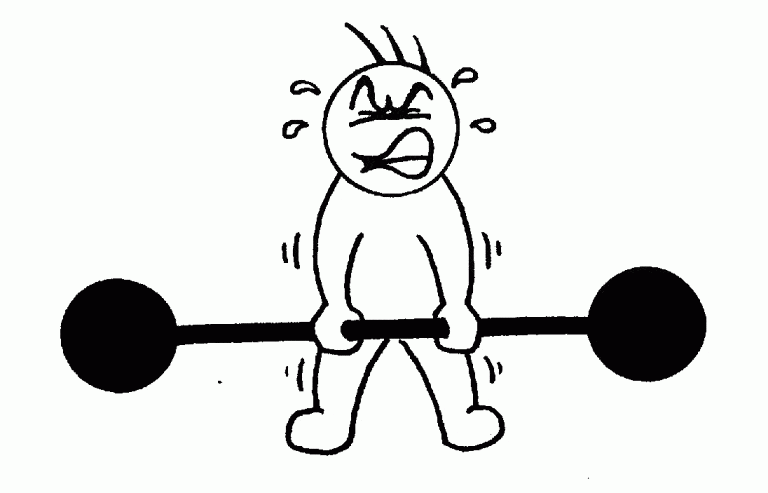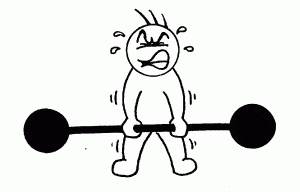 Users also say this can be an ideal choice if you are working for a logging company and wants to have a reliable wood splitting tool nearby. But if you are capable of using this heavy-duty splitting maul to make some firewood for your stove, this tool will really give you great advantages and can even help you become physically fit.
Wood splitting mauls are by far the heaviest and beefiest among wood splitting tools we have today. Yes, they are not better than felling axes when it comes to felling down trees but much more effective than the wood splitting axe in terms of splitting logs since they are built hefty like tanks.
Honestly, when it comes to splitting logs, size does matter. Though splitting axes are better when splitting medium size logs because of their lighter features, the mauls are heavy and can live up to its name when it comes to cracking thick logs in half.