Chainsaw File Sizes - Which Size Fits Your saw
Anyone who uses a chainsaw knows that regular chain sharpening is a must and various chainsaw file sizes are appropriate for every sharpening process. Chainsaw chains come in different types and lengths. Some of them are better used for logging, while some types are best for tree surgery and some for firewood cutting.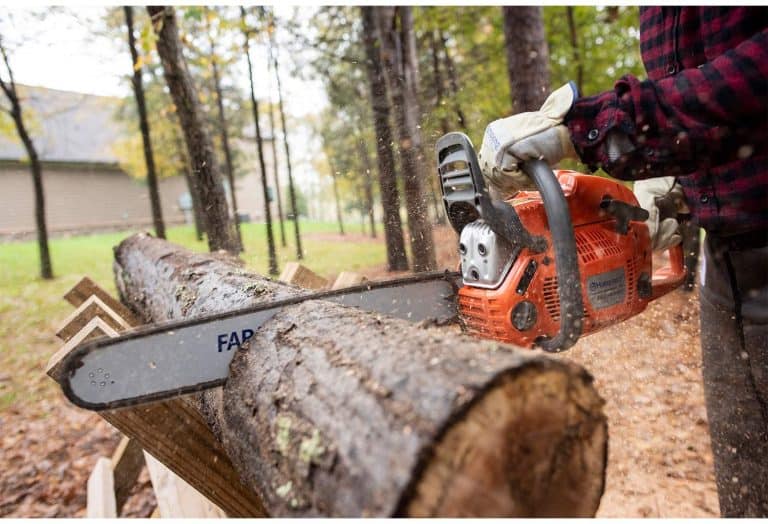 How to find the best chain sharpener products in the market is important because the performance of your chainsaw also depends on the sharpness of its chain. Even with a heavy-duty chainsaw, if you don't know how to sharpen the teeth of the chain and you're using the wrong file size, your chainsaw won't work well. A dull chainsaw can even be dangerous to use due to kickbacks.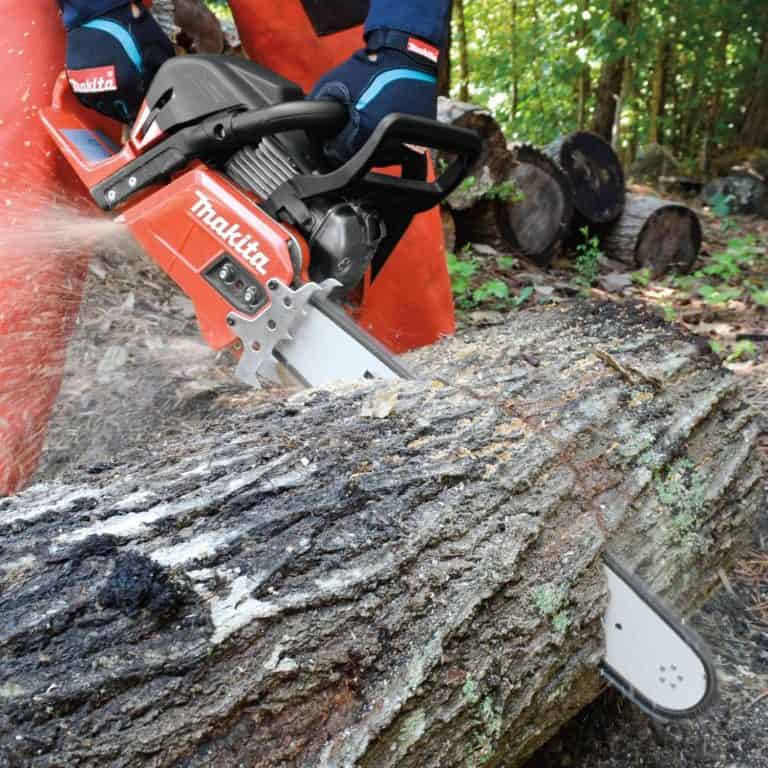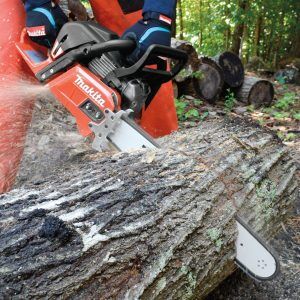 Chainsaw chains come in 3 different basic configurations – the full chisel, the semi-chisel and the chipper chain. Nonetheless, all chainsaw chains have the same basic parts and you will know them better below.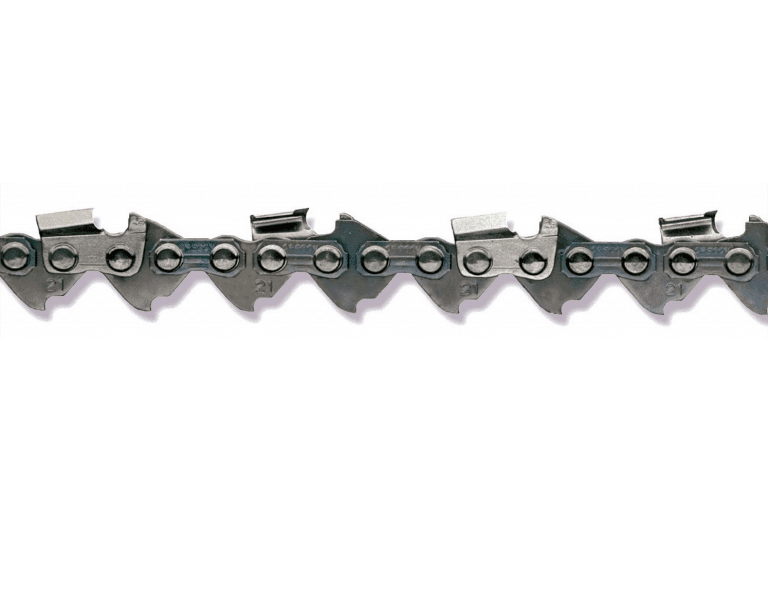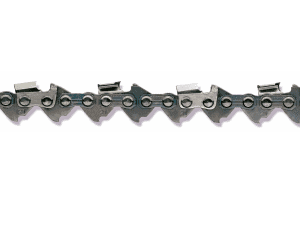 Chainsaw Chain and Its Parts
Chainsaw Pitch – This is the distance between the three rivets on the chain and measured in inches.
Chain Gauge –
Describes how thick the drive link is and also measured in inches.
Cutter Teeth –
These are the cutters in the chain that cut the wood and come in 2 styles: right-hand and left-hand cutters.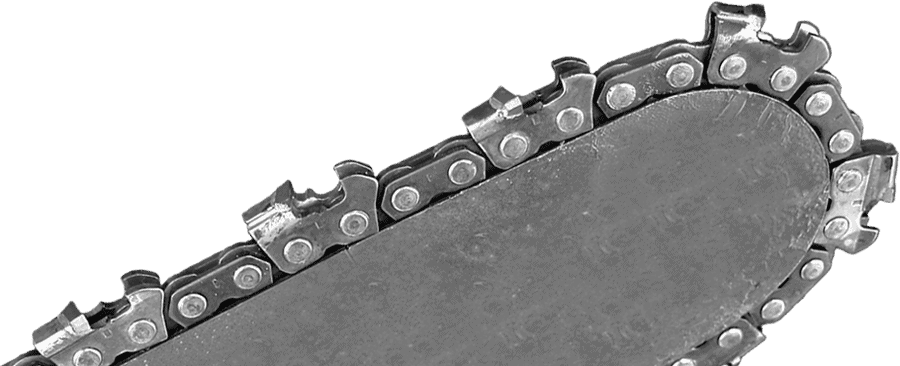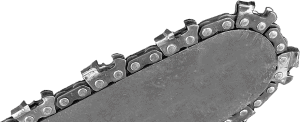 Depth Gauges –
Also called "rakers", these are metal protrusions that are at the front of the cutter teeth. These determine the depth of the cut by the cutters. So for every raker, this should have the same height as the cutter tooth to avoid issues during cutting.
Drive Links –
These serve as the feet of the chain that runs within the groove of the guide bar.
Tie Straps –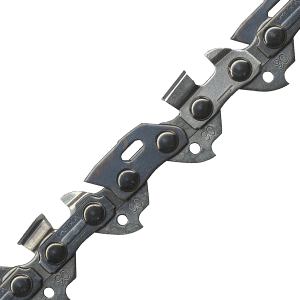 These connect the cutters and drive links.
Rivets –
Acts as the fasteners in connecting the pieces of metals.
Guard Links –
Some chains have built-in guard links that are positioned in front of every cutter link to reduce the risks of chain snagging when cutting small branches of trees and timber. These also shield the leading edges of the rakers.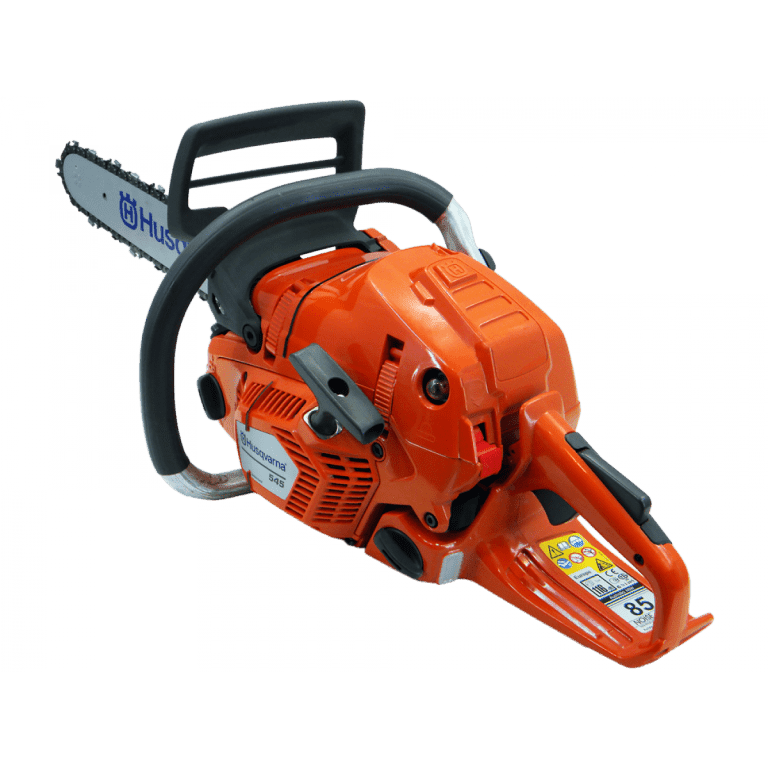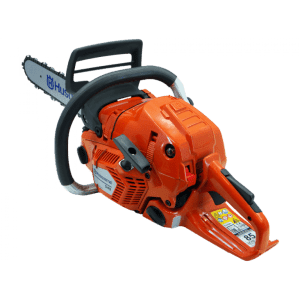 Now, among these parts, only the cutter teeth and the depth gauge do need to be filed or sharpened. Why? Because the cutter teeth are the only parts that bite into the wood while the depth guides serve as the guide by preventing the teeth from sinking too much into the wood. And because these two have different cutting corners, you have to use different chainsaw file sizes to sharpen them. This is why you will need the best chain sharpener products to come up with an efficiently sharpened chain.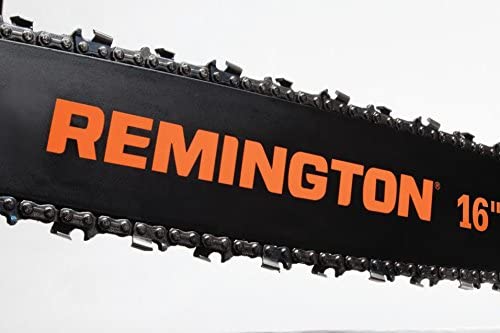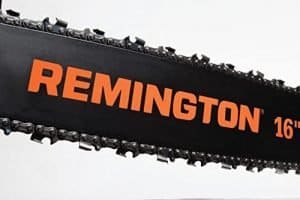 What The Different Types of Chainsaw Chains Are Used For
Here we identify the different types of chains with their cutter types as every type has specific uses for cutting wood.
Full-Chisel Cutters
These chains have square-cornered cutter teeth and they offer high cutting speed. If you have to deal with hardwoods, this is the best chain type for cutting tree branches and firewood. And because the chain is a high-speed, it will eventually need the best chain sharpener type to retain its cutting efficiency.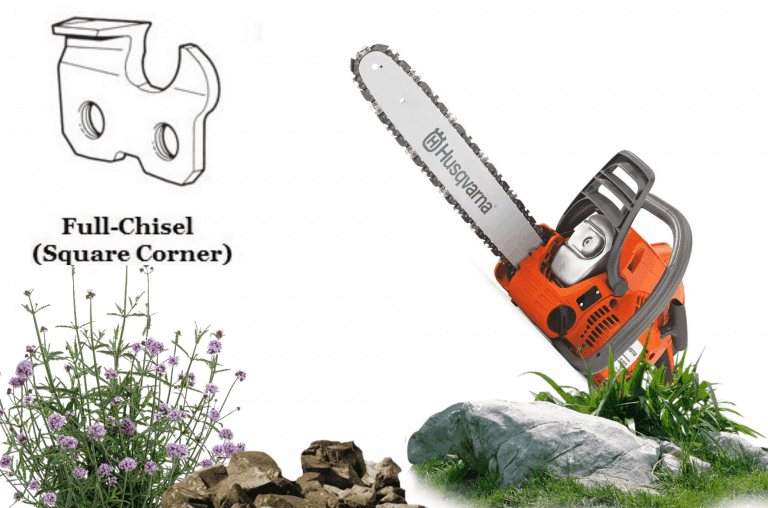 However, these chainsaw chains have some small issues. They can break easily because they run at a higher speed. They cannot be used also in a dirty environment like wet and mossy woods or they become prone to kickbacks. And because they are fast-moving, they can produce a rough cut on softwood.
Semi-Chisel Cutters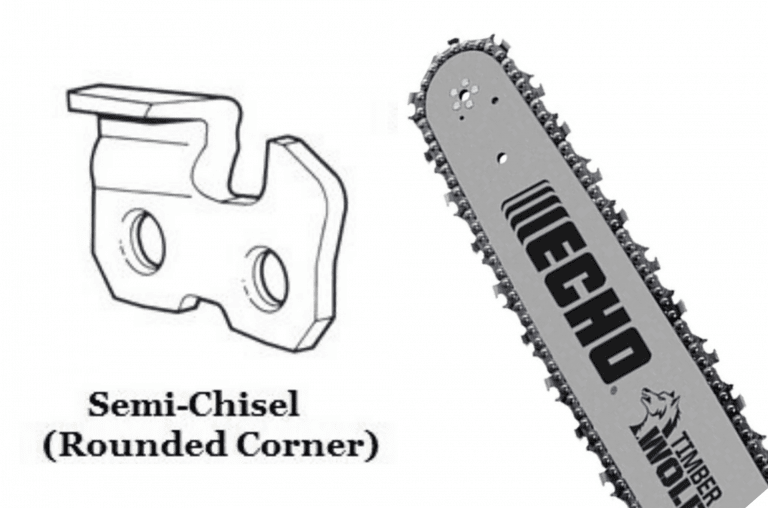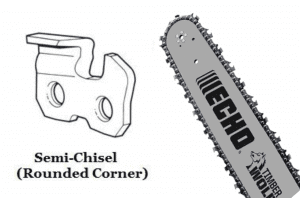 The cutter teeth of these chains have rounded corners and work on slower speed as compared to the full-chisel. So these are the types of cutters that are best for softwood. They can also deal with dirty wood and even dry and frozen wood. So reliability is the best asset of this chainsaw cutter type. They are, therefore, not very prone to kickback but their only weakness is that they can't cut on hardwood fast.
Chipper Cutters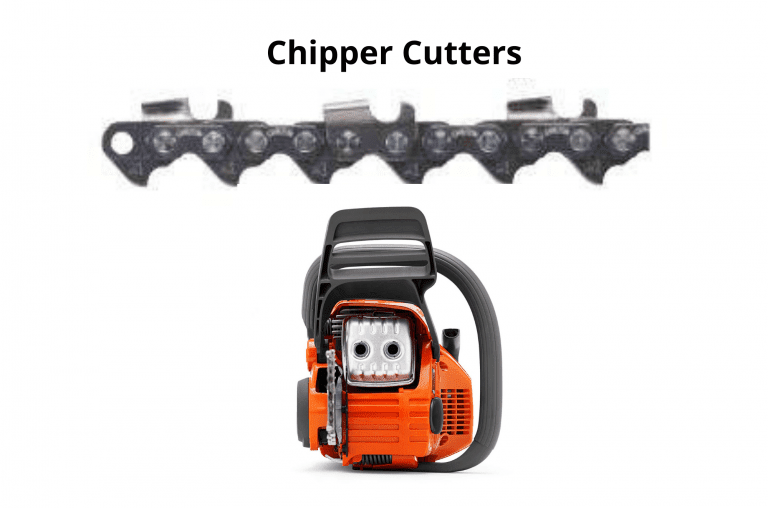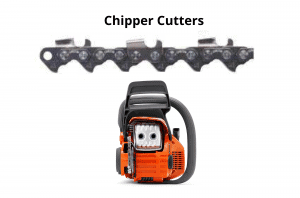 These are the most common chain types and are generally used for commercial chainsawing. These also have rounded teeth much like the semi-chisel so they are also safer to use especially they have metal parts that can prevent kickbacks. They are not designed to be very fast, however, but they can precisely cut any type of wood. Yet, this chain type requires the best chain sharpener and can be the right type of chain for beginners.
How to Choose the Best Chain Sharpener Size
If you are a newbie with a chainsaw and need to choose the right chainsaw file sizes, you may find it quite confusing to choose the right file size for your chain. So to know this, there are two things you can do. First, to check the number that is marked on the side of the cutter then match this number on the file chart. Second, you can also manually measure the pitch of the chain by measuring three rivets using a ruler or a measuring tape in mm. What you get will be divided into 2 X .039 and the result is the pitch size in inches.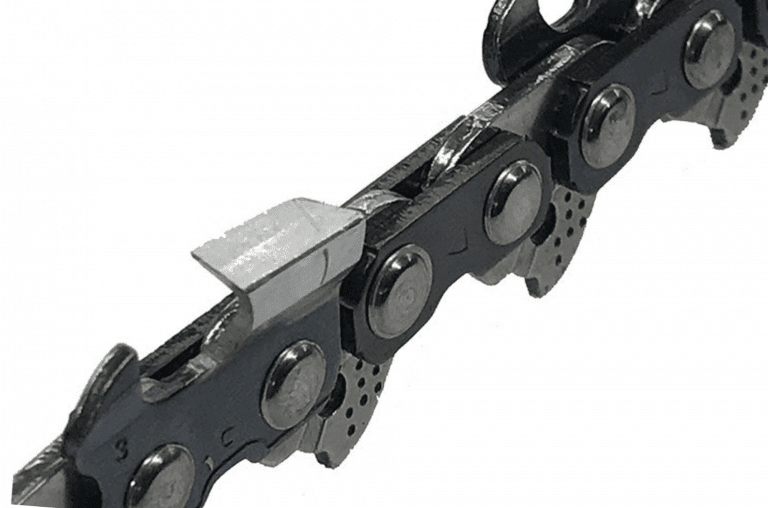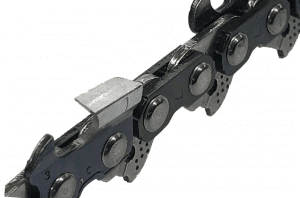 Once you have the pitch, you can check the file chart to know the right file size for your chain. If you don't have the chart, you can click here and print it. Chainsaw file sizes also come in 4 different sizes and these are available both in round or flat types.
4.0 mm (5/32")
4.5 mm (11/64")
4.8 mm (3/16")
5.5 mm (7/32")
Okay, so we got the file size but which file type should we use for the gauge and the cutter teeth? Which means when shall we use the round or the flat file?
Here are some tips:
If your chain has a chipper cutter, you will need a round file. But if it has a pitch of 5.5mm (7/32") you have to use a round file.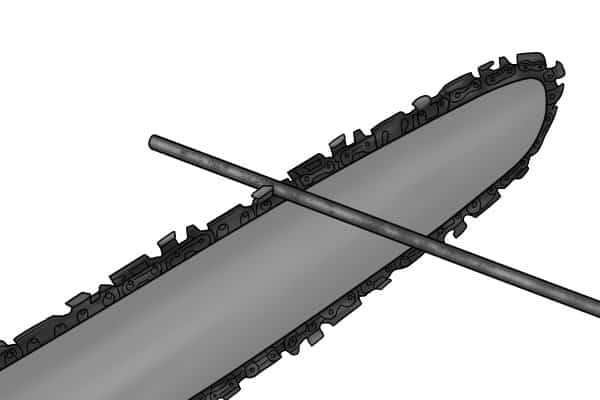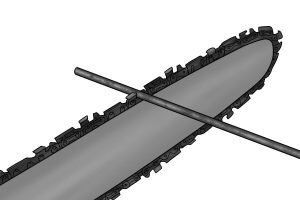 For chisel cutters, a flat file is needed. But if its pitch is 5.5mm (7/32"), you will need a 5.5mm flat file.
For 3/8LP and .325 pit chains, use 4.0mm (5/32") file.
For 3/8 pitch chain, use a 4.8mm (3/16") file.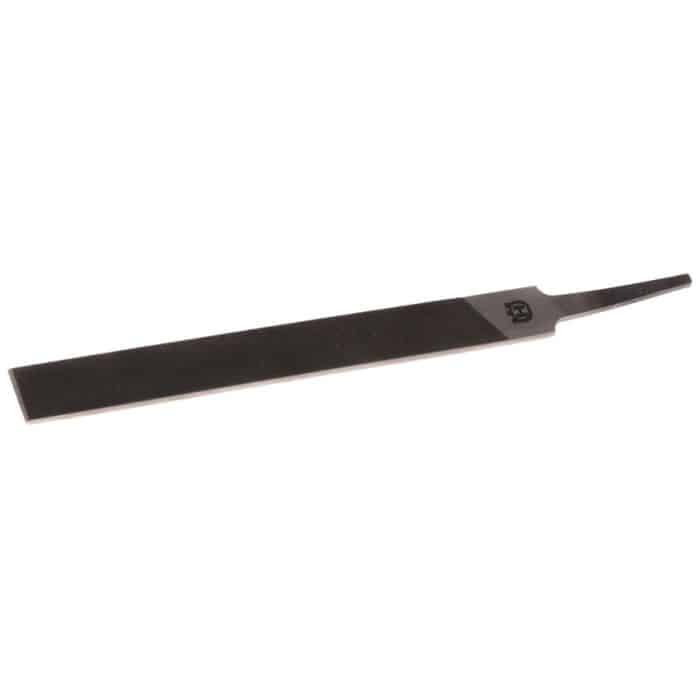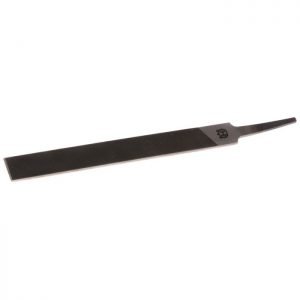 For the 404 pitch chain, the recommended is 5.5mm (7/32") file.
Still confused? Don't worry, once you get the hang of knowing your chain pitch, you'll know quickly the type of file and size you'll need. The problem now is how to use these files to get the perfect length of both the cutter teeth and the depth gauges when sharpening them.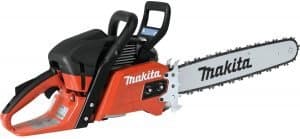 Well, there's a tool we call the depth gauge guide. This is a tool that can coordinate well with your best chain sharpener. With this, you can check if the length of each cutter tooth and the depth gauge are of the same height.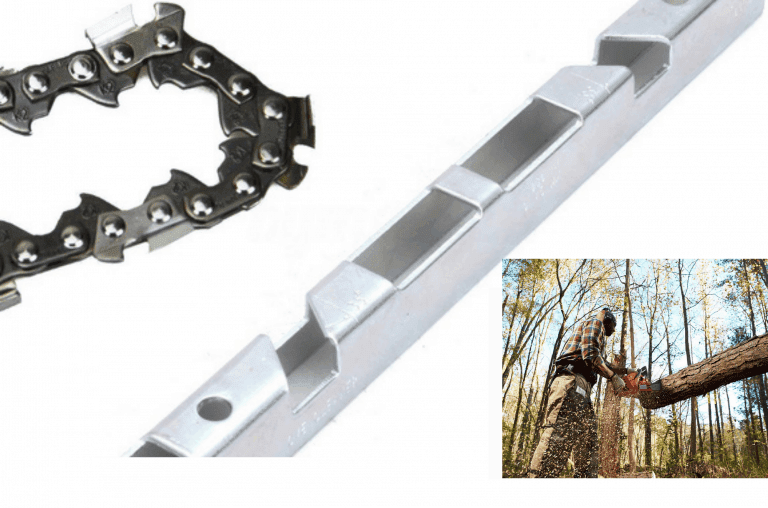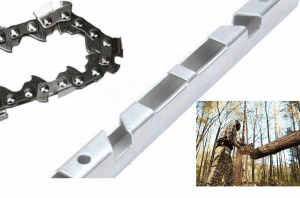 After filing the gullet (slot under the cutter) of the cutter with a round file, put the depth gauge guide on top of the filed cutter and position its slot on the depth gauge. If there is a protrusion of the top of the depth gauge on the slot, this is the part that you need to file out using a flat file. Depth gauge tools are available in four different heights:
0.043"
0.050"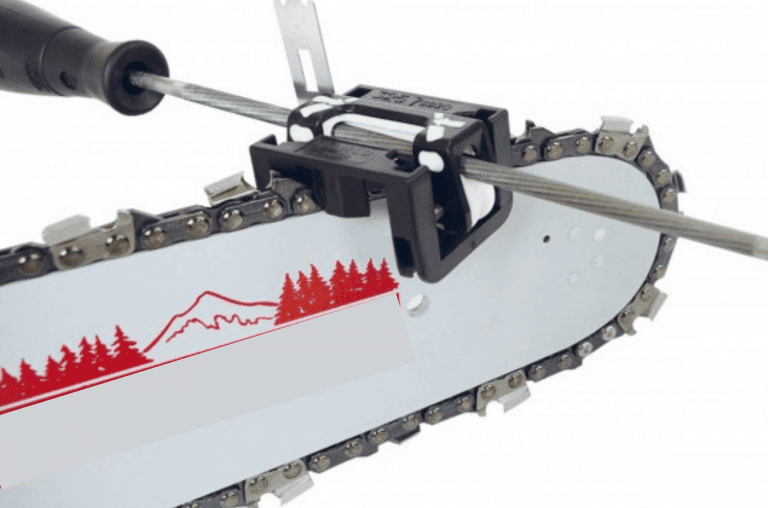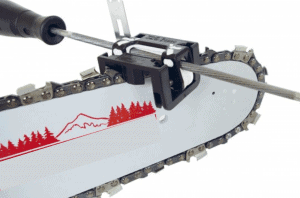 0.058"
0.063"
Among these, the 0.050 depth gauge guide is the most common. And according to experts, you have to avoid filing the depth gauges below 0.025" or this will shorten the chain's service life.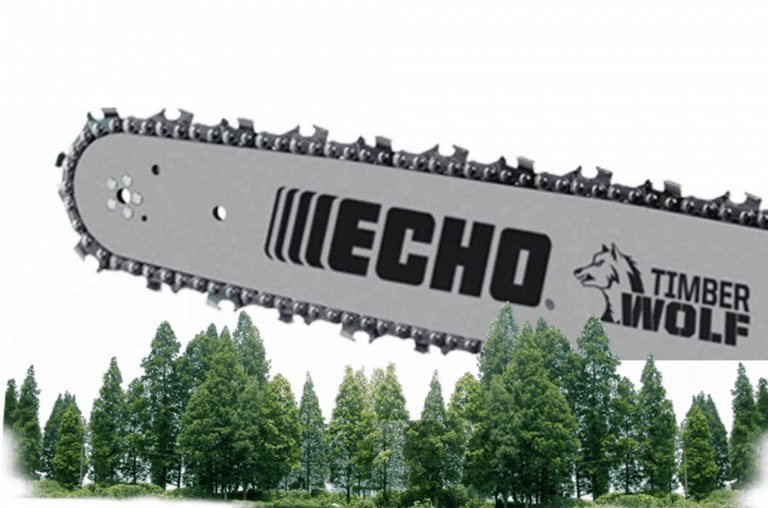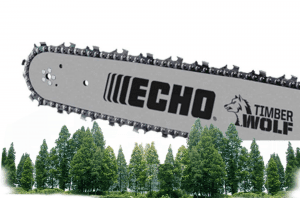 Since you have now learned the different types of chains and how to measure their pitch size to get the right chainsaw file sizes, we will show you below some of the most popular chainsaw sharpeners in the market. But first, let us tell you some things to consider before purchasing your first chainsaw sharpener.
Things to Know Before Buying The Best Chain Sharpener
Chainsaw sharpeners are available in 3 major types. The electric, the battery-powered and the manual file types. Today, people considered the electric and the battery-powered to be the best chain sharpener products for quick chain sharpening. They are also adjustable in many ways so regardless of the type of chains you have, once you set these up accordingly, you can do quick and precise chain sharpening anytime.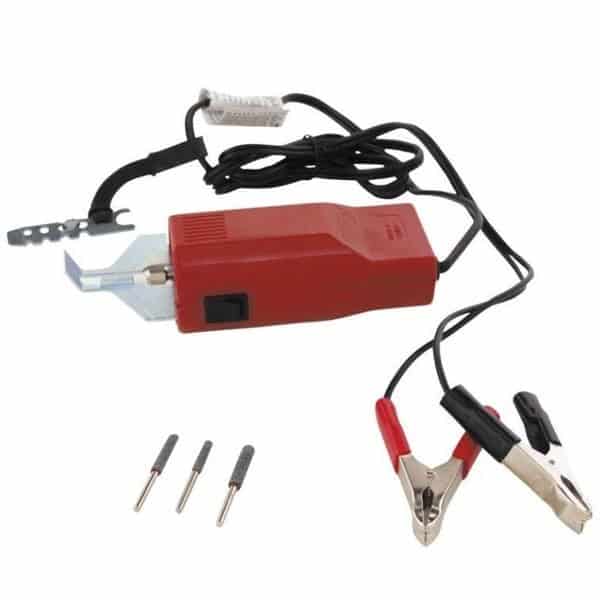 Take note also that chainsaw chains have two types of profiles and these are the low profile and the standard profile chain. Low profile chains are available in 1/4" pitch and 3/8" pitch with 0.050" gauge. These chains are lighter in weight and require less power to run and therefore they produce a shallow cut. They are designed for electric chainsaws and gas-powered chainsaws that have 42cc engine and below. So if your chain bar needs to have more than 72 drive links, these chains won't do.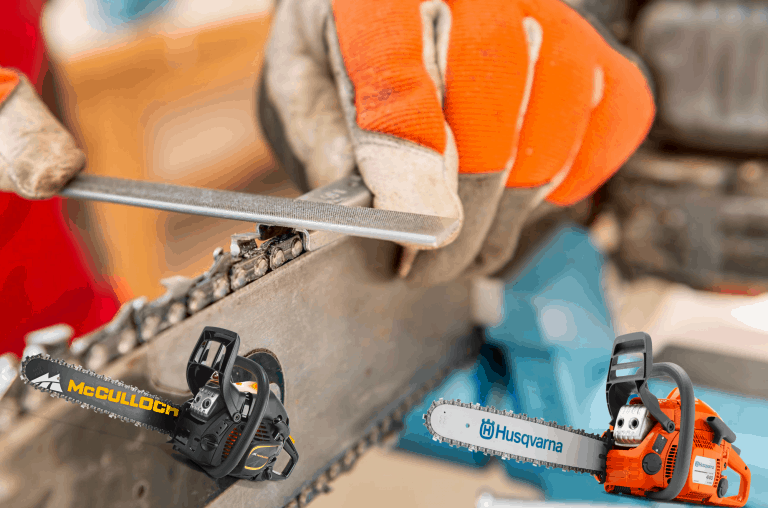 Standard chains also have 3/8" pitch and also .050" gauge but these are designed for the heavy-duty chainsaws with 50cc engine and above. So the primary difference of the low profile chains and the standard chains are on their cutter and their drive links' height. Ordinarily, standard chains are also heavier and thicker.
Ready now to buy your chainsaw sharpener? Let's do now some chainsaw sharpener reviews.
Oregon 520-120 Bench Saw Chain Grinder
This is a 110V commercial type chainsaw chain sharpener that at first glance you would think that it can be complicated to use. But this amazing saw chain grinder only needs basic adjustment and it has instruction in its packaging. Made by Oregon, one of the world's leaders in the manufacturing of world-class chainsaws and parts, this item is one of the company's best chain sharpener products that can sharpen 1/4", 3/8" low profile chain as well as 0.325", 3/8" and .404" pitch chains. To maximize its use, you can install it in your garage or shop or bring it to your wood milling job site.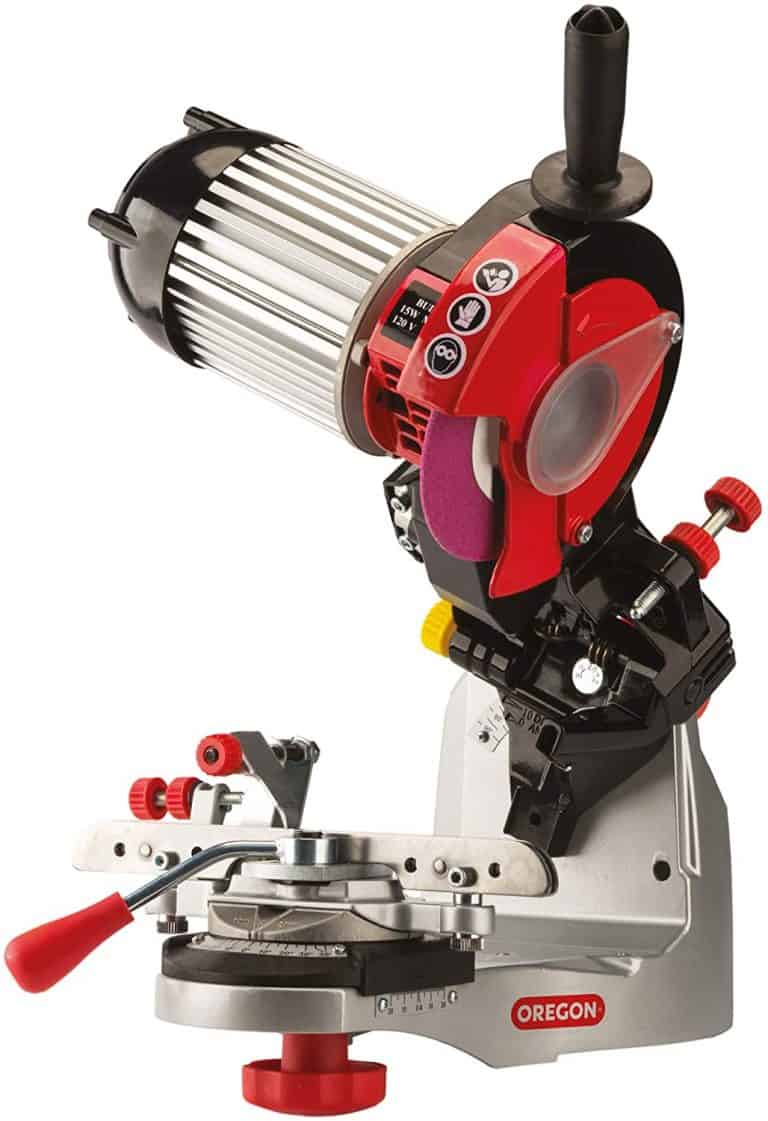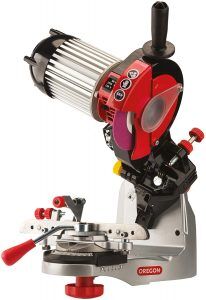 It also has a top plate and down angle settings, so all the sharpening you need for the cutters and the depth gauges can be done using only this tool. To hold the chain in place, it has a built-in self-centering chain vise and a customizable vise handle for positioning the grinder to follow the grinding position of every chain's cutter and raker. For a clearer sharpening task on a dim environment, this unit also has a built-in light.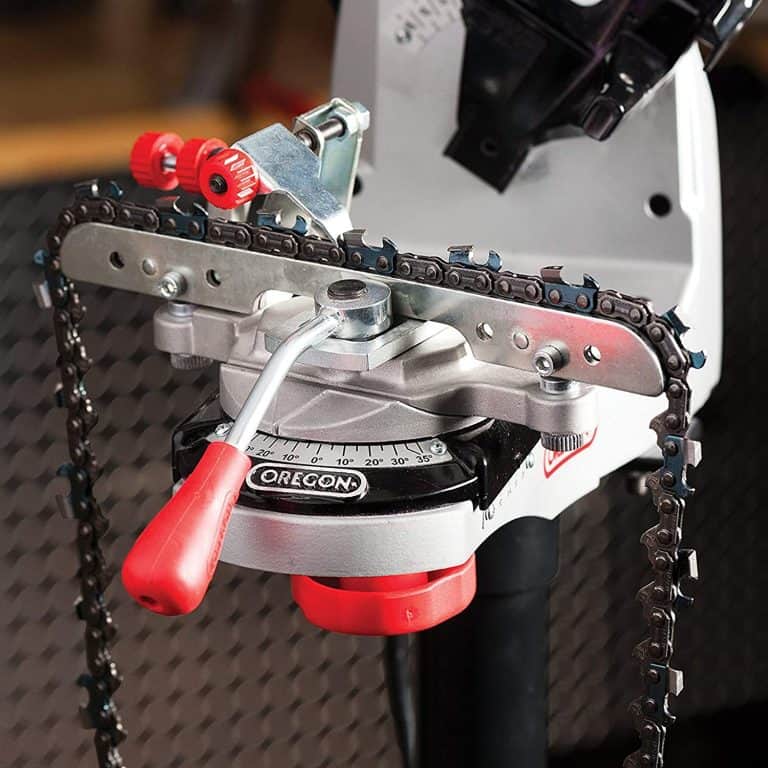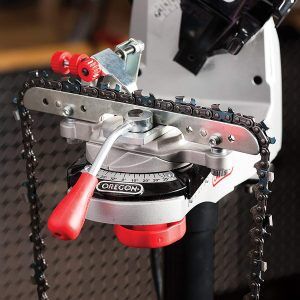 If you do chainsaw sharpening in bulk, this is the right unit you need. Once you have set all the necessary adjustments, you can sharpen any type of chain fast and easy. That's why we have included this unit among our chainsaw sharpener reviews because of its versatility. You can also watch on YouTube how to use this unit if you need visual instructions.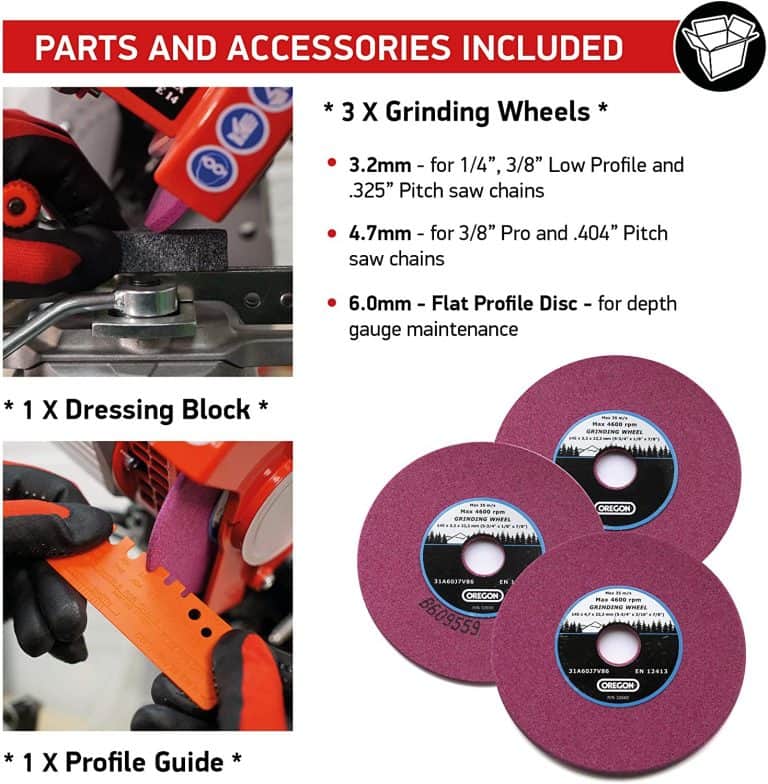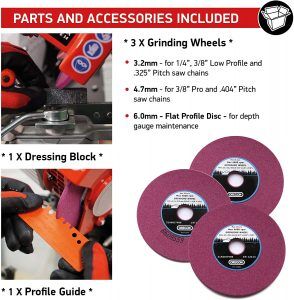 Oregon 12-Volt Sure Sharp Chain Saw Sharpener
We want you to check this other Oregon chainsaw chain sharpening tool which requires a 12-volt power source. This is a small but reliable tool and also very easy to use. It has an adjustable flap to suit the depth of any chain cutter's gullet and it comes with three ceramic stone sticks.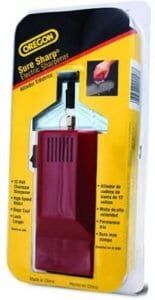 You can plug this in a 12-volt car battery or lighter plug on your car and this is by far the fastest but the most compact unit in the battery-powered chain sharpening category. Adjusting the depth of its flaps is easy. All you need to do is unscrew the small screws to adjust the flap's height. With this, you can finish a single chain in less than 10 minutes.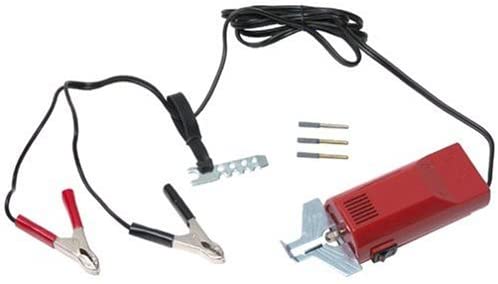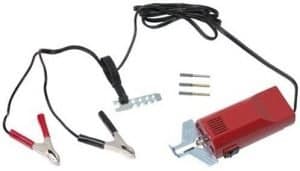 Small but with a very innovative design, we also included this in our chainsaw sharpener reviews because of its versatility and efficiency. Very affordable and lightweight, it can sharpen pitch sizes from 3/16" to 5/32". It comes also with a power converter and a built-in depth gauge tool.
Stihl 2 IN 1 EASY FILE CHAINSAW CHAIN SHARPENER .325"
Another item on our chainsaw sharpener reviews is this basic-looking but a very reliable tool we've found at Amazon and YouTube. This simple tool is loaded with several chainsaw file sizes being supported by plastic holders on both ends. Looking at the design of this product, the chainsaws are lined up in such a manner that if you insert the chainsaw cutter into the slot and grind, the other files will also be grinding the top of the raker and the cutter.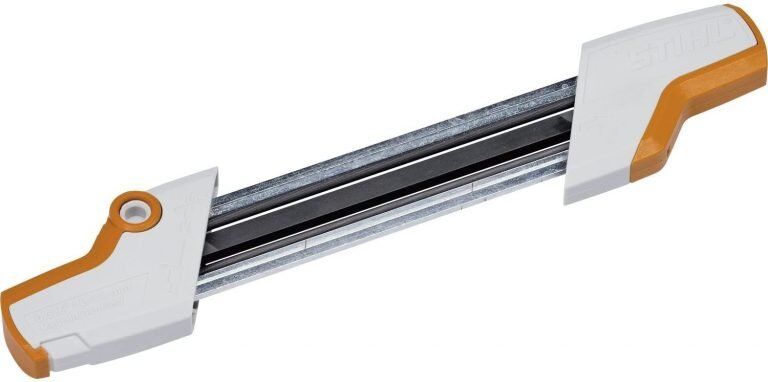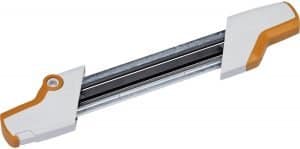 So using this simple tool, for every stroke, you will be filing 3 different spots – the top and gullet of the cutter and also the top of the raker. This means that you don't need to use a depth gauge guide to level the top of the raker to acquire the same height with the top of the cutter.


This tool can be your best chain sharpener that you can use wherever you go. With no batteries or cord, even the expert chainsaw users are impressed with this simple tool made by STIHL, the world's number one manufacturer of the best quality chainsaws. Weighing only 12 ounces, this little guy can sharpen 1/4" to 3/8" pitch. Very compact, you can carry it on the side pocket of your pants and can use it while taking a break.
Oregon 40466 Chainsaw Depth Gauge Tool And Flat File
Some of you may also be looking for a reliable depth gauge guide and we found this set that consists not only of a raker guide but also a flat file and both are made by Oregon. The depth gauge guide has a .025" drop-center design for accurate and consistent depth gauge setting.


This tool is very easy to use and we have explained this above how to use one. But for clearer instructions, see its guide and filing technique on the back of the item's packaging.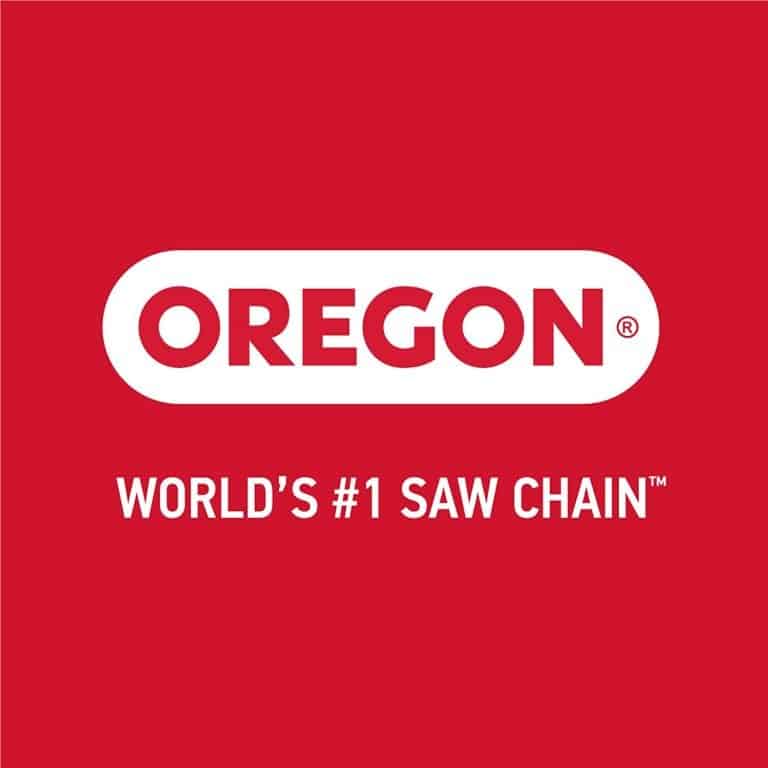 If your chainsaw sharpener doesn't have a built-in depth gauge tool, better have this gauge tool to avoid accidents with your chains because if the rakers of your chain would be longer than the cutters, the chain won't bite into the wood. In contrast, overly short rakers will make the chainsaw bite into the wood deeper and kickbacks can happen.
Knowing the chainsaw file sizes is crucial because you can always achieve the best performance of your chain if you can use the right file without damaging the cutters and the rakers. And for quick and easy filing work, this is the reason why we have shown you the best chain sharpener products in electric and battery-powered forms.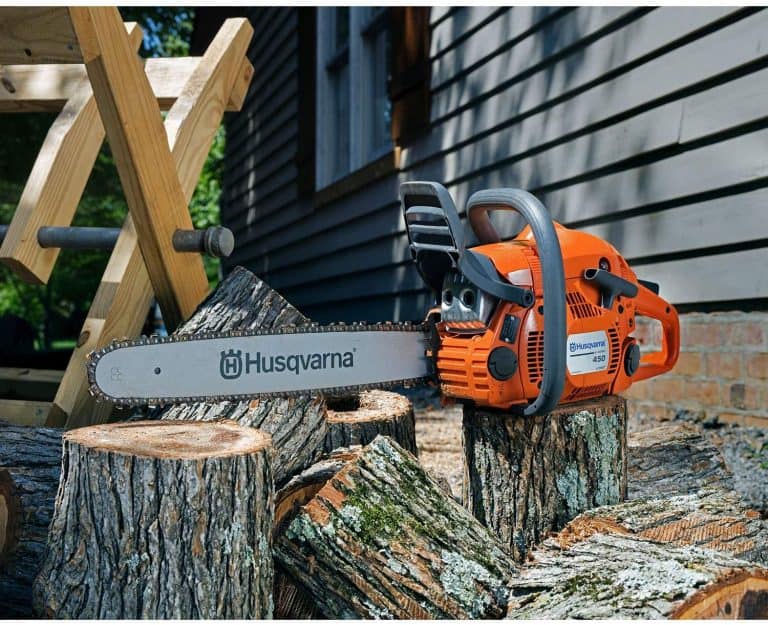 For our next blog, we will present to you tips on how to find the best chainsaws for firewood because we know that a lot of us need firewood every few months in a year. So if you have access to sources of firewood, let us tell you more about these machines.